Gifting, especially during holidays, is a time-honored tradition that has been practiced by people all over the world for centuries. It's not just about giving someone something they want, but also about showing them how much you care.
Of course, you can always give them homemade gifts as a way to show them your genuine love, but in this article, we want to focus on sustainable gifts that go beyond traditional holiday gift-giving.
The good news is there are plenty of ways to find sustainable gifts without spending too much money or compromising your values.
This blog post will suggest eco-friendly gift ideas for family and friends that will help protect our planet while still being thoughtful gifts that they will love.
But first, what exactly are sustainable gifts? And how do they differ from regular gifts? Read on to learn more!
Eco-Friendly Gifts Vs. Regular Gifts
Sustainable gifts are environment-friendly because they either reduce your overall use of natural resources or create less waste to manufacture, package, and transport in order to reduce the carbon footprint.
They're often made from recycled materials that can be reused again in other products without being thrown away immediately. Most of the time, these eco-friendly gifts also come with reusable packaging.
Because of these efforts, sustainable gifts have a lower environmental impact than regular ones, which could just end up sitting in a landfill or polluting the earth if they're not reused.
Now that we know the difference between eco-friendly gifts to regular ones let's look at the best eco-friendly gifts to give this holiday season that will be sustainable and still put a smile on your loved one's face.
Sustainable Gift Ideas for Loved Ones This Holiday Season
These gift ideas made from sustainable materials will help you show your family and friends how much they mean to you while also preserving our planet!
Here are some of the most popular sustainable gifts this year:
Reusable Bowl Covers are the perfect sustainable gift for anyone in your life who loves to cook and be in the kitchen.
Nowadays, most people know that plastic is not suitable for our planet because when it's thrown away after just one use, it never decomposes and ends up polluting waterways around the world which can harm wildlife.
So instead of using plastic wrap to cover bowls of leftovers in the fridge, use these pretty bowl covers made from 100% cotton!
These super chic bowl covers have three sizes available and can be machine washed and dried.

Bluapples are reusable food savers that help reduce food waste by keeping your produce fresh for a longer time. Each bluapple contains Ethylene Gas that helps prolong the life of your produce by hastening spoilage.
You can use them on fruits and vegetables like apples, lemons, limes, oranges, avocados, and more!
Just put the Bluapple in the fridge with your produce to keep it fresh up to twice as long.
Loomstate is an ethical fashion brand that sources sustainable materials to create high-quality and affordable clothing products like this adorable women's racerback tank. They also ensure fair trade practices and conditions throughout the supply chain.
The brand has been using 100%-GOTS (Global Organic Textile Standard) organic cotton in their clothing lines, making them a great sustainable choice for your loved ones.
An eco-friendly gift such as sustainable pencils is a great gift idea for anyone in your life who loves writing, sketching, or doodling. Sprout pencils can grow into herbs and flowers, making them a sustainable and thoughtful gift for anyone who loves the environment.


Each pencil is made from 100% sustainable certified wood and is non-toxic! When a sprout pencil is too short to use, you can plant them in a pot or garden to grow your own herbs, vegetables, and flowers.
The Ecoegg is a laundry alternative to harmful commercial detergents and fabric conditioners that will help reduce your carbon footprint and impact on the environment.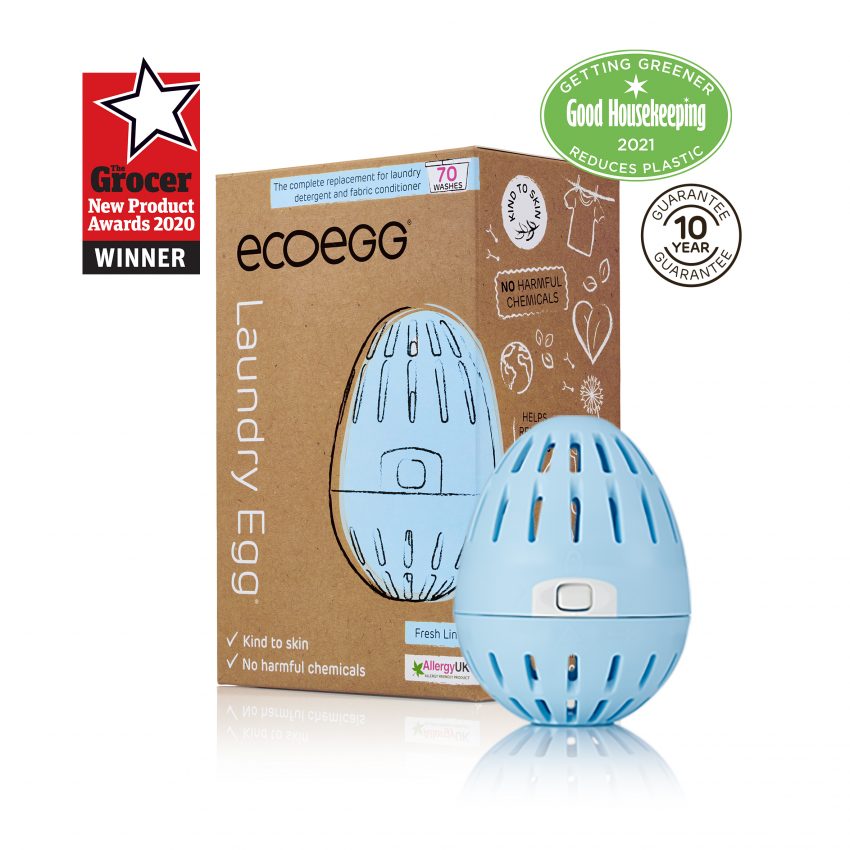 The sustainable and reusable laundry egg uses two types of mineral pellets and a minimal amount of detergent that dissolves dirt, grime, and stains without harmful chemicals. It's also hypoallergenic for sensitive skin and won't leave behind a residue like other commercial products.
Plus, the company uses recycled packaging on all its products!
Made from recycled water bottles, Rothy's collection of shoes are sustainable, comfortable, and environmentally friendly.
For instance, this pair of sneaks is made entirely from Rothy's signature knit yarn created from plastic bottles. The sustainable material is breathable, stretchy, and machine washable.
If your loved one is not a fan of sneakers, you can always choose from a wide variety of styles like ballet flats, loafers, sneakers, and flip-flops- meaning there is something for everyone on your list!
Nimble is a tech brand that advocates for sustainable living by introducing tech items that are entirely made from recycled plastic bottles, organic hemp and have zero plastic packaging.
This wireless charging pad can charge two phones at once can also be used with other devices such as Airpods, making it versatile for everyone on your list.
A complete kit that is sustainable and reusable, Lauren's Essentials Zero Waste kit offers an all-inclusive way to reduce waste.
The sustainable kit encourages people to avoid using single-use plastics by providing a tote bag, mason jar, stainless steel straw, bamboo toothbrush, and more. The brand encourages zero to minimal packaging by choosing not to package products.
One Tree Planted's Tree Planting Gift is a perfect gift to those who love trees and the outdoors.
This eco-friendly gift provides the opportunity for your loved ones to plant their very own tree, creating a sustainable and thoughtful gift. With this kit, not only will they be able to plant an actual tree, but they can also reduce greenhouse gas emissions while making a positive impact on the environment.
For every kit purchased, One Tree Planted will plant one tree in the region where the tree species is from.
Frugi is a sustainable kid's clothing brand that creates sustainable and ethical clothing for children.
This organic cotton bobble hat is a sustainable, eco-friendly gift that your kids will love to wear! It's also super cute with its bright colors and fun patterned knit design.
Okey Kitchen's Vietnamese Coconut Bowls is a sustainable product that uses real coconuts.
Made with love by Vietnamese artists, these eco-friendly bowls are lead-free, phthalate-free, BPA Free, CPSA Free which means they're safe for your loved ones to use at home.
Instead of buying online and using wrapping paper to wrap gifts, why not just purchase a Skillshare subscription for your loved ones? That way, you can give the gift of learning while also making your own sustainable efforts.
Skillshare is an e-learning platform that offers online classes and educational resources for you to learn new skills. It is an online community that brings together people who are interested in expanding their skills and knowledge through online classes taught by experts, creatives, and influencers.
With this membership, your loved ones can enjoy lifetime access to thousands of classes from creative fields such as Arts & Photography, Design, Music Production, and much more!
Conclusion:
It's always a good idea to think about eco-friendly gifts for the holidays. Not only do they give back to the environment, but these types of gifts also promote sustainable living, which benefits everyone.
The sustainable gifts we've given you are just a small sample of the many sustainable and eco-friendly products that exist. There is plenty more to choose from, so feel free to reread this post to explore sustainable gift ideas for the holiday season.